How to pay:
Minimum amount of deposit is 20% not less than 48 hours before date of the trip. With a 50-100% deposit you will get discount 5% Full payment must be done before the start of the trip. Guaranteed perfomance of all services comes after 100% payment.
Choose payment method:
Paying in Cash (USD/VND): Visit our office or pay at your hotel.
Bank trasfer: Make a hassle-free and safe bank transfer.
Pay online: Make an immediate payment with Momo or AirPay and other
For more details on payment options, please call us on +84-912-688-240 or email us on info@catamaranvn.com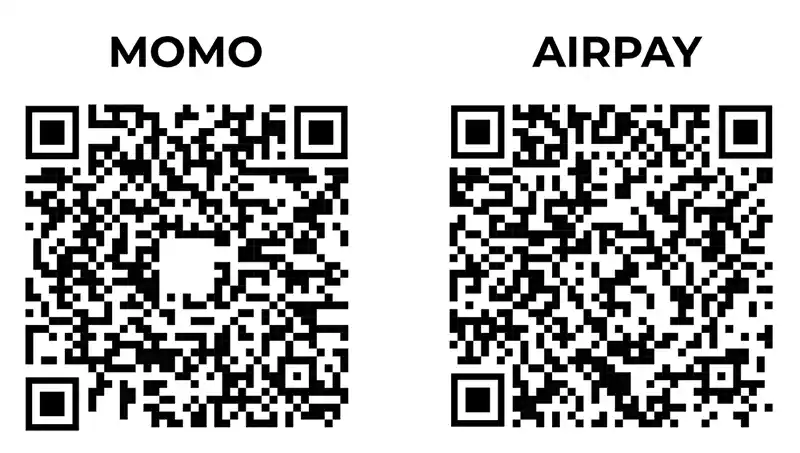 Pay with Momo Wallet:
1. Install official Momo app
2. Link your bank account
3. Scan the QR code and pay
Pay with AirPay Wallet:
1. Install official AirPay app
2. Link your bank account
3. Scan the QR code and pay
Free cancellation available with a prior notice of 24 hours before the day of sailing. Change the date of booking is available by customer, in that case the deposit will be saved until new confirmed booking date. If canceled less than 24 hours before departure, the deposit is non-refundable. In case of cancellation due to health reasons, the deposit will be returned only upon presentation of a certificate from a doctor.
How does catamaran differ from yacht?
Catamaran is a large and comfortable double-hulled boat. It feels like "house on water". Unlike conventional yacht, cruising catamaran doesn't roll because of strong waves or wind and moves on water surface smoothly. Therefore, passengers are less predisposed to get seasickness, and they feel on board as comfortable as possible. Shallow draft allows catamaran to reach places that are inaccessible for most general ship.
How many people can be on board?
Our yachts are designed for 20 passengers (Southern Light, Barramundi) and 30 passengers (Easy Life).
Can I get my pet with me?
Any pets are not allowed on board.
What should I wear?
Beachwear is the best option: swimming suit, sunglass, hat, sunscreen, additional light clothes. Don't worry about shoes as we walk barefoot on board.
Should I take snorkeling equipment with me?
No. We have all necessary snorkeling equipment on board of our catamarans. Besides we have towels, warm wrap in case you get cold and raincoat in case of raining.
Can I smoke on board?
Yes, smoking is allowed at the back of catamaran. Though, it is strictly forbidden to throw cigarettes out in the water. Ashtrays are included on board.
Is there a toilet on board?
Yes, there are toilet rooms on each of our catamarans.
How safe is it to travel by catamaran?
There is all necessary safety equipment on catamaran: dinghy, two liferafts, lifejackets, lifebuoys, fire extinguishers, escape route. Our crew is fully trained and has necessary qualifications. Accompanying staff will instruct you about safety on board at the beginning of your trip.
Do I need to have any special skills for sailing?
No, you do not. It is relaxation for you after all. Our crew accomplishes all navigation and maneuvers.
Seasick
We have medications for seasickness on board. If you tend to feel sick on board then we would recommend you to take medicine for seasickness half an hour prior to departing. Besides you can ask accompanying staff to give you medicine.